Enhance home security and privacy with our 24/7 Peephole Installation Services in Round Rock,TX !!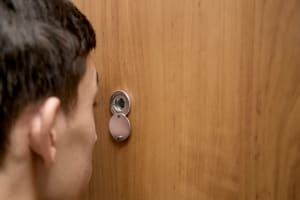 A peephole or door viewer is a small hole through the door through which the viewer can have the outside view from inside. In a door, usually for homes, apartments or hotel rooms, a peephole allows the viewer to see the outside view without opening the door. Peephole installation can be a very crucial addition to any main door and consist of a lens and barrel.
At Round Rock Locksmith Pros, our home locksmiths can install a peephole in your door to safeguard you and your dear ones from crimes that can occur anytime.
Benefits of peephole installation at home:
Peephole installation is of great importance as you can control everything when it comes to the safety of your own house. The benefits of peephole installation include :
• Let only selected individuals or groups of people to enter inside your home
• When anyone knocks on the door, you can discreetly use a peephole to see them first
• These devices are very small and compact. Despite being so small in size, they have a huge impact on how safe and protected you are in your own home
• In any case, criminals or burglars try to pick the lock, you can easily thwart their activities by using a peephole as you can clearly see what they are upto
• Door viewers are affordable, simple to install and easy to use.
A thorough eye-check can be maintained on different exterior doors around your home. If you have kids, you can have the installation of two peepholes, one of your height and one further down for the kids to see through. This system makes the process simpler for them as well at the time of opening the door ensuring everyone's safety.
Various kinds of suitable door viewers include :
MiniViewers: These door viewers are best suited for doors at your home that is one and a half inches thick or less.
MiniScopes: These are well suited on apartment buildings and homes with thinner doors and give a clear 200-degree view.
XtraScopes: This door viewer is the right choice for residential buildings with doors of ordinary thickness and wide-angle range.
NuScopes: These help with a larger range of view with a 180-degree peephole.
WideScopes: These are basically installed in commercial spaces and industrial needs enabling you to view the individual knocking on the door in several light conditions.
Ultra-Vision: These have a special 132-degree horizontal glass lens and you can see up to seven feet away.
Why choose us ?
At Round Rock Locksmith Pros, our honest and friendly staff can virtually overcome any challenge regarding your safety. They will come to your location in order to take care of the problem in 30 minutes or less. If you have recently installed a new door or facing issues regarding the peephole, our residential locksmith will arrive at the scene point once called upon with all the safety measures.
Our customers can count on us for:
• 24/7 availability
• 30 minute or less response times
• Upfront pricing
• Fully licensed, insured, and bonded
• Expert technicians with real-time experience
• Mobile locksmiths equipped with latest tools
• Installations and repairs using top brands
We offer top quality peephole installation services and our team strives to fulfill your needs & budget with the best fit for you to achieve a confident sense of security. Also, we provide security audits to increase security as well as make repairs and replacements.
Our vans are well stocked with technology driven tools and equipment making it easy to quickly install and repair peepholes , simply give us a call at – (512)777-0522.
[opty_stars_rate_bar size="medium"]