Avail 24/7 assistance with your mailbox locks in Round Rock,TX!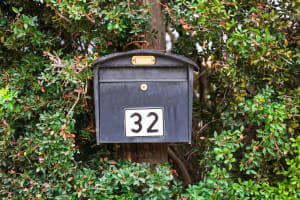 At Round Rock Locksmith Pros, we have a wide range of mailbox lock services that can help you with the installation of new mailbox locks on your residential spaces. We understand that a stolen mail or broken lock on your mailbox can be extremely frustrating. Need not worry, we have worked with Local Apartments, Private homes, Villas, Community spaces, etc where we provide 24/7 assistance to ensure a high level of convenience and security.
If you experience a mailbox lockout at your house, our residential locksmith will value your concern professionally. Our vans are fully equipped with all the latest tools so that full installations & repairs can be done efficiently and are always on standby.
Types of mailbox locks :
There are majorly two types of mailbox locks that include individual mailboxes and multi-unit mailboxes. This ensures that your needs are fulfilled irrespective of what your location is in the local area. Mailbox security is of great importance because everyone prefers to keep it confidential and not let others have any access to your mail or any type of your private packages. In case, you receive a large number of packages or are always receiving checks in the mail, you will definitely make sure that these are under protection.
Our Mailbox Lockouts Service Include:
1. Installation of new Mailbox Locks:
Our professional locksmith will go through all mailbox locks to help you get the most suitable one for your residential space. No matter what brand you want to choose, we are here to install and take care of your mailbox to ensure a high level of safety and security.
2. Mailbox Rekeying And its Replacement:
If you are looking forward to remaking your mailbox keys or you are shifting to some other place or just need the replacement of the key, get in touch with us. We are here to serve you key duplication services and replacements on-spot.
3. Community Lock replacement:
If your communal mailbox lock is damaged, we can replace them for you. This makes sure that your bent lockout would look much better in a new look
4. Private Mailbox Lock Replacement:
If the mailbox at your home or office is broken or burgled and want to get it repaired, connect with our team of professionals who are happy to serve you. We provide private and commercial mailbox lock replacement all day and night for 24/7
5. Residential Mailbox Locks Repair:
Connect with us for residential mailbox replacement or installation. When you give us a call, our professionals will arrive at your home to help you in lockout needs within 30 minutes or less and give back your peace of mind.
Why choose us ?
We understand your concerns about security issues when you are operating from a commercial building. Our honest and friendly staff can virtually overcome any challenge regarding your safety. If you need a fast and reliable commercial locksmith, you have come to the right place. Our customers can count on us for:
• 24/7 availability
• 30 minute or less response times
• Upfront pricing
• Fully licensed, insured, and bonded
• Expert technicians with real-time experience
• Mobile locksmiths equipped with latest tools
• Installations and repairs using top brands
Our professional locksmiths will come to your home in order to take care of the problem in 30 minutes or less. We offer top quality mailbox lock services and our team strives to fulfill your needs with the best fit for you to achieve a confident sense of security.
Give us a call at Round Rock Locksmith Pros at – (512)777-0522 for consultation and free estimates.