Stop Worrying About Lost Keys, Now avail affordable Keyless Entry Lock Solutions In Round Rock, TX !!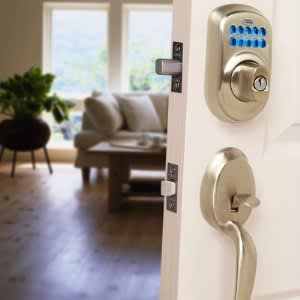 Keyless entry locks are very popular in recent days. And as your local lock service company, we're not surprised. Think about it!
Such locks are an upgraded piece of technology wherein you can unlock the doors without physical keys. We're able to provide a keyless entry lock system installation or repair for your residential or commercial spaces. Now you can open high-tech locks in multiple ways, some of the known ways for keyless entry systems are:
• Number panels: These kinds of lock systems require a numerical code to unlock the door.
• Smart locks: Such systems are able to unlock the door using the smartphone
• Biometric lock systems: These include scanning of thumbprints, retinal scans, and voice recognition systems for door opening.
Keyless entry systems allow access to a sensitive area without the use of physical key. These are used to remotely lock , unlock and start the vehicle engine through radio frequency signals or RF for short.
If you have ever lost your keys or had one break off inside the lock, then you would relate to the ultimate advantages of keyless entry lock systems. At Round Rock Locksmith Pros, we offer 24-hour mobile locksmith solutions to ensure the help you need at your location.In addition to that we have real-time experience and latest tools needed to implement all of your installation and repair needs to do the job right.We can also provide you with an emergency locksmith and ensure that if you want to get installed keyless entry lock system, our locksmith will arrive at the scene in 30 minutes or less.
Which keyless entry system is suitable for you? Ask us !
Our residential locksmith will be able to arrive and examine your home's security.
And the commercial locksmith will walk through your commercial property and assist you with the most suitable business security system to match your particular business needs.This allows us to provide not only keyless entry solutions but also residential, commercial, and automotive locksmith services at your doorstep anytime during day and night.
How Can You Enhance Your Security?
It is unfortunate that crimes can occur anytime, anywhere even at your personal or commercial space.Our priority is to kill the chances of you becoming a victim and safeguard you from such incidents. We can provide commercial security systems as well as smart locks for residential properties to be one step ahead for your protection.
All of our automotive locksmith services come with competitive pricing which means that the price quoted by us when they arrive on site is the price that you can expect to pay when the job is rightly done.There will be no surprise or hidden charges.Wherever you are in Round rock,TX and the surrounding area, you can anytime rely on us for all our automotive, commercial, residential, and emergency locksmith services. Our honest and friendly staff can virtually overcome any challenge regarding your safety. If you need a fast and reliable commercial locksmith, you have come to the right place.
Our customers can count on us for:
• 24/7 availability
• 30 minute or less response times
• Upfront pricing
• Fully licensed, insured, and bonded
• Expert technicians with real-time experience
• Mobile locksmiths equipped with latest tools
• Installations and repairs using top brands
We offer a variety of keyless entry services along with installation and maintenance services. Our team strives to fulfill your needs and budget with the best fit for you to achieve a confident sense of security. So, anytime you need any type of locksmith simply contact us on (512)777-0522