High Security grade 1 locks
High Security, Grade 1 Locks Installed and Repaired in Round Rock, TX :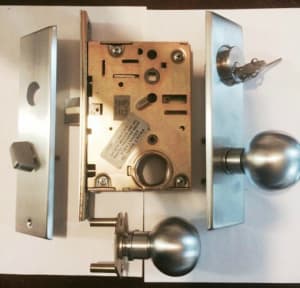 When it is about high security locks to secure your place of business, Round Rock Locksmith Pros is the top choice to rely on. We offer complete locksmith services in Round Rock,TX and the surrounding areas. We understand your business is your livelihood, so we have the best possible way to secure it.
Now get the high security grade 1 locks installed for your business and value your security as much as we do it for you.
High Security Locks For Your Business :
It is very common to hear about business properties being broken or burgled. As commercial locksmiths in your local area, we hear about these types of unfortunate incidents more often. As the external doors to your business properties are very much vulnerable to such potential burglars. And to avoid such occurings , it is a high time you must get a Grade 1 lock installed that ensures your business is fully secured and protected.
Get in touch with us to ensure a better sleep at night where you know that you have professionally installed, commercial grade locks keeping your business secure in your absence as well.
Why prefer High security grade 1 locks?
• These have keys that are difficult to copy and have been gaining popularity in recent times.
• These locks have the highest rating
• These are hard to force your way through.
In case your locks stop working, drop us a call. In addition to our installation services. We also repair high security locks. No matter where it is installed from ,we repair it anyway and gain 100% customer satisfaction
Are you worried that upgrading your security is affordable or not?
Indeed it is.Now schedule our high security lock installation services at your business property anytime during day or night. Moreover, we assure you the affordable and upfront pricing to ensure you'll never face any hidden charges. We are here to provide you the highest commercial security options to fit into your budget and give you back the peace of mind.
Our locksmiths are available for 24 hours and if your security is lacking in any way, Round Rock Locksmiths Pros is here to strengthen your weak points and are always on standby. If your business is broken into, your customers are also at stake. It is your responsibility to protect both yourself and your customers with the highest level of security measures.
Why choose us?
Over the years, we have earned a certain trust factor and reputation in the community. Our customers can count on us for:
• 24/7 availability
• 30 minute or less response times
• Upfront pricing
• Fully licensed, insured, and bonded
• Expert technicians with real-time experience
• Mobile locksmiths equipped with latest tools
• Installations and repairs using top brands
We offer top quality high security grade 1 locks and our team strives to fulfill your needs & budget with the best fit for you to achieve a confident sense of security. We also provide security audits to increase security as well as make repairs and replacements. Along with that, we can make you an appropriate number of keys and complete every step in the process. Our priority is to make sure you are safer as a result of our efforts.
Our vans are well stocked with technology driven tools and equipment making it easy to quickly replace your high security locks, simply give us a call at – (512)777-0522. We are always here to take care of any of your locksmithing concerns that can possibly trouble you if not taken care of.