Secure your property today by installing Deadbolt Locks and be worry free !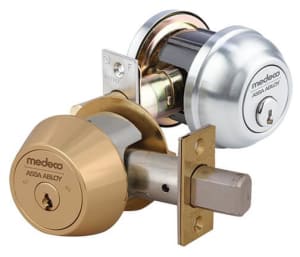 Deadbolt is the most classic choice when it comes to your security and for a good reason as these locks are different from the old spring locks. The cylinder inside the lock can only move when the key is inside or the knob is twisted. In simple terms, you can't use a credit card to open a deadbolt lock. It is a good choice to install deadbolt locks on solid wood, steel or fiberglass doors. These doors resist forced entry as they are not easily battered.
You can definitely rely on Round Rock Locksmith Pros for superior lock services who will be there for your assistance 24-hours.
What are the types of deadbolts:
There are different styles of deadbolts but the main ones are single cylinder and double cylinder. The difference between the two is while the single cylinders have locking mechanisms that need the key for the single side, double cylinders feature both sides.
Double cylinders provide additional security. It has some restriction of probably being a fire hazard due to the need of an interior key, which can be misplaced or lost when fire occurs and result in the building's residents getting trapped inside. Such locks are cost effective, efficient, time saving and user friendly for everyone.
Deadbolt Lock Installation for Your Residential or Commercial Property:
Here at Round Rock Locksmith Pros, we have the real-time experience of installation deadbolt locks. Our team of skilled professionals will install every deadbolt in your home or office quickly to meet your requirements.
For home use, we recommend a single cylinder deadbolt lock. Such lock is activated with a key on the exterior side of the door and a thumb turn piece on the interior side. These locks make it really difficult for burglars or invaders to pass through even during emergencies. Your security alarm system is good for notifying the authorities of a burglar but does not fully prevent them from stepping into your home. A deadbolt lock ensures the safety and security of your home and takes care of your family.
For office use, a double cylinder deadbolt lock shall be a better option and highly recommended. Such locks require keys to open from the inside or outside. Thus, even when an intruder breaks a window which is close to the door, they can't turn the double cylinder deadbolt open. It works the same way as the single cylinder. The difference is both sides of the lock must have a key to move the bolt into a fixed position.
Why choose us?
We have real-time experience with every kind of key, even electronic keys. If you have a deadbolt lock already installed at your place but it is not working properly, feel free to get in touch with us for assistance. Moreover, other than replacing old deadbolt locks we also repair them. Our customers can count on us for:
• 24/7 availability
• 30 minute or less response times
• Upfront pricing
• Fully licensed, insured, and bonded
• Expert technicians with real-time experience
• Mobile locksmiths equipped with latest tools
• Installations and repairs using top brands
We offer top quality Deadbolt Lock Installation Services and our team strives to fulfill your needs & budget with the best fit for you to achieve a confident sense of security. Our professional locksmiths will come to your location in order to take care of the problem in 30 minutes or less.
Our vans are well stocked with technology driven tools and equipment making it easy to quickly replace your Deadbolt Locks, simply give us a call at – (512)777-0522.