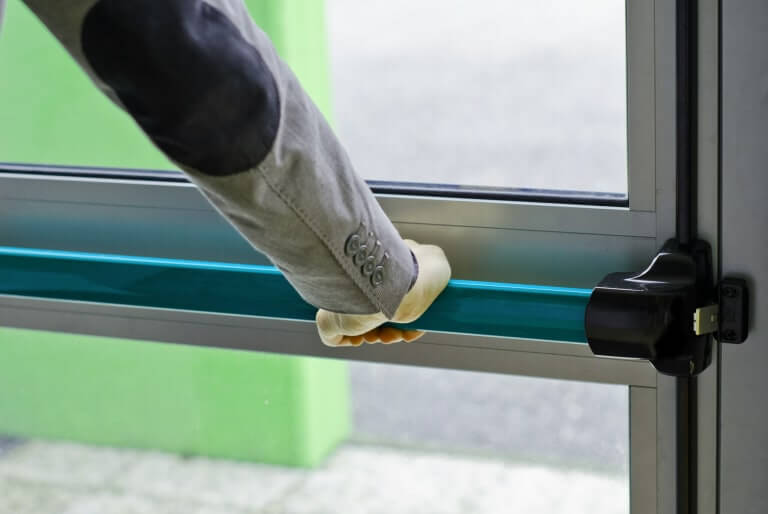 A Panic bar or a Push bar is a type of door opening system where users need to push the bar to open the door. While originally it was considered as a way to ward off crowd crushing in an emergency situation , but are now used as the primary source of door opening system in many commercial properties
At Round Rock Locksmith Pros, we repair & install panic bars with building codes and zoning laws allowing the door to be locked from the outside and allow visitors to exit from the same door without having a physical key by pushing the panic bar. Being common in many commercial and public spaces, such bars are especially designed for emergency exits, fire doors and other special purposes.
Our team of experts can provide enough safety. Important features to many doors in commercial buildings allow the office staff to safely exit during emergencies. Our 24-hour locksmiths will repair panic bars and install a new panic system to ensure that the property is safe enough for everyone involved.
WHAT ARE PANIC BARS/ PUSH BARS?
Panic bars , Push bars and exit devices serve a great purpose — the doors are unlocked while opening to the outside arena of your business property during emergencies especially in case of fire alerts.
With this door opening mechanism, one can even alarm others so that they will alert other patrons that they need to exit the premises during the emergency. During panic and emergencies, these kinds of devices are absolute life saviors as they have to be pushed with excessive weight to open. Panic bars are universally required by building codes.
Most of the offices, shops and other commercial buildings have now installed panic hardware such as panic bars, push bars and fire alarm operated door closers. We are here to provide panic bar installation, repair and replacement services of all types of panic hardware either on an emergency basis or as part of planned maintenance.
Push bars aren't just for safety , but also enhance the building's security maintaining easy access from exit doors. One can properly set up push bars so they are functional during working hours and get back to their original position when the building is shut. We have a wide range of sizes and styles of panic or push bars to select so they meet business requirements for vertical or horizontal bar design.
ARE PANIC BARS/PUSH BARS COST FRIENDLY?
A big yes! Apart from making the property safer , panic bars are also cost friendly and much affordable with effective installation matching the business's needs. These are the kind of investments that can save you huge investments over the years and can also reduce the insurance costs. During emergencies – panic bars, smoke alarms, safe windows, fire extinguishers & other high security systems can help in the protection of patrons inside the commercial premises and settle all types of security issues.
Our honest and friendly staff can virtually overcome any challenge regarding your safety. If you need a fast and reliable commercial locksmith, you have come to the right place. Our customers can count on us for:
• 24/7 availability
• 30 minute or less response times
• Upfront pricing
• Fully licensed, insured, and bonded
• Expert technicians with real-time experience
• Mobile locksmiths equipped with latest tools
• Installations and repairs using top brands
Round Rock Locksmith Pros is one of the industry leading brands who offer advanced biometric lock services for full protection . Call us at (512)777-0522 – and our locksmiths will arrive at your property in 30 minutes or less for panic bar installation or repair services.