Top quality Car Fobs services in Round Rock, TX !!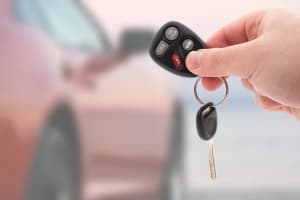 Car fob replacement is one of the main reasons that drivers often get irritated about . At Round Rock Locksmith Pros , we examine the issue thoroughly as the leading automotive locksmith service provider in local and the surrounding areas.
We understand that it can be really troublesome when you are about to unlock the car and your key fob is not responding well. Our locksmiths are a skilled group of technicians who are determined to help you with top quality, supportive and friendly services that you deserve.We will quickly respond to your request, and arrive within 30 minutes or less with a wide range of the most state-of-the-art equipment to do the job right. If your car fob is not working properly, or if it has been damaged in any way, our car locksmith will do the best to promptly repair it at your location. Whether it is a foreign or domestic car, we are here to repair your key fob as we also have expertise in replacing batteries if this is the only reason for unresponsive car fobs.
Most of the automotive locksmiths are till date operating in a traditional manner using old techniques.However, they still undergo outdated business practices that have not been timely upgraded . At Round Rock Locksmith Pros though, we are constantly mounting new goals for betterment and innovation. Seeking a replacement fob from a dealer can cost you high investments further and be overall a slow process. At such a point of time, you cannot wait even for a week to get a new car key fob. We recommend you to give us a call and our locksmiths will prove to be very satisfying to you as we can reprogram a new car fob without any hassle.
Tips For Car Fobs To Save Investments:
Here are the top 3 tips for for your car fobs where you can save on your further investments :
1. Cross check the battery on the fob. Mostly there is no need to have a car fob replacement as just the battery needs to be replaced and nothing else.
2. Make sure you carry an extra option of the secondary fob for your vehicle and leave it at home or with a family member.
3. Keep the fob away from hot and cold environments at all times.
Wherever you are in Round rock,TX and the surrounding area, you can anytime rely on us for all our automotive, commercial, residential, and emergency locksmith services. Our honest and friendly staff can virtually overcome any challenge regarding your safety. If you need a fast and reliable commercial locksmith, you have come to the right place.
Our customers can count on us for:
• 24/7 availability
• 30 minute or less response times
• Upfront pricing
• Fully licensed, insured, and bonded
• Expert technicians with real-time experience
• Mobile locksmiths equipped with latest tools
• Installations and repairs using top brands
We have the experience with every kind of key , even electronic keys. We offer top quality car fob replacement services and our team strives to fulfill your needs & budget with the best fit for you to achieve a confident sense of security. Along with that , we can make you an appropriate number of keys and complete every step in the process. Our priority is to make sure you are safer as a result of our efforts.
Our vans are well stocked with technology driven tools and equipment making it easy to quickly fix your car fob problems. , simply give us a call at – (512)777-0522 .